"Cobra Kai" the new drama series you should watch if you love "Karate Kid"
Here's some reason why "Cobra Kai" deserve some attention for fans who love the old school 'Karate Kid' (and not the Jaden Smith/Jacky Chan movie)
It was started at exactly thirty four years after the events of the 1984 All Valley Karate Tournament, the series focuses on Johnny Lawrence reopening the Cobra Kai dojo, which causes his rivalry with Daniel LaRusso to be reignited. #CobraKai
Even some fans know that Daniel is the real problem from the start.
If you are still wondering why you should side Johnny on his quest for redemption; watch the video below to explore more details about why Daniel is the REAL bully and not Johnny.
While most of the cast are confirm, the cast per episodes only reaches up to 10 episodes: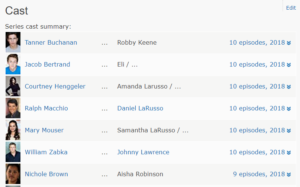 We hope to hear more the producers but for now… Guess it's time to party, because Cobra Kai is back in business baby!

For more news on the latest trends visit : https://newslemak.com